Claim for Personal Injury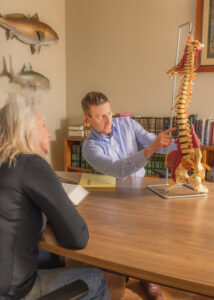 A claim for personal injury includes any type of fault-based accidental or intentional injury. Oftentimes it is difficult to determine who is responsible for your injury. As a result, an injured person may end up bearing the costs of an injury when another party is legally responsible.
At Duckworth Law, we are experienced with a wide variety of claims for personal injury and have a keen eye in finding the responsible party. If you have been injured, come meet with us and we can advise you whether you may have a claim for personal injury against a responsible party.
A claim for personal injury can take many forms. One of the most common types of claim involves a car or auto accident, but there are other types. A claim for personal injury typically involves negligence, which is generally defined as "the failure to use reasonable care." Negligence is by far the most common type of claim for personal injury that we file.
Depending on the conduct at issue, there can also be claims for intentional torts, fraud, consumer protection, strict liability, nuisance, trespass, and more. Tort law is endless, and it requires an experienced attorney like Duckworth Law to be able to investigate a claim, identify the legal theories, and aggressively prosecute.
Claim for Personal Injury – Types
It is difficult to list every type of claim for personal injury, but lists are a helpful resource for those considering whether they might have a claim. The basic question is –did someone's carelessness or intentional act caused your injury? A long but not exhaustive list of examples of personal injury claims include:
Construction Accidents
Medical Malpractice
Dog Bite
Insurance Bad Faith
Birth Injuries
Motorcycle Accident Fatality
Truck Accident
Semi Truck Accident
Premises Liability (Liability for injury on property)
Wrongful Death
Product Liability
Amputation Injury
Bus Accident
Brain Injuries (Traumatic Brain Injury – "TBI"; Anoxic Brain
Injury, etc.)
Spinal Cord Injury
Oil Field Injury
Drunk driving accidents
Herniated Disc Injury
Silicosis
Burn Injury
Class Action
It is impossible to list all possible claims, but the key component is that someone or some entity acted carelessly, recklessly, fraudulently, intentionally, negligently, or otherwise badly, causing injury or harm. Uninformed people badmouth lawsuits, but the truth is that you cannot have a legitimate lawsuit unless someone first acts very badly. At Duckworth Law, we hold bad actors accountable and responsible, which helps foster a safer and healthier community.
Studies Show – Lawyers Increase Recovery in your Claim for Personal Injury
There is a misconception that an injured person can save money by not getting an attorney or that a claim with an insurance company can be handled without an attorney's assistance. Although this may be true in rare cases, an experienced personal injury attorney will be able to maximize your recovery.
Insurance companies may try to get an injured person to settle quickly and for a lower amount than the person could get with the help of an attorney. Research has shown that on average a lawyer results in a much higher recovery than an unrepresented claimant, and often more. If your case involves an insurance company, it is generally in your best interest to at least consult with a personal injury attorney before settlement. An initial consultation is free; if we are hired the case is handled on a contingent fee basis (percentage of recovery). Contact us for questions about your injury claim.
Another often overlooked aspect of personal injury is preserving and maximizing recovery. Most cases are not as simple as just recovering money from the at-fault party. Even if you receive money, you may be subject to medical liens or subrogation claims from other insurers. If you do not recognize and properly consider liens and subrogations rights, you can end up in a worse situation by accepting a settlement, only to have the money taken or claimed by a health care provider or insurance company.
Duckworth Law can not only maximize your initial recovery but also protect the recovery from liens. It is nearly impossible to do this right without an experienced lawyer.
Every Claim for personal injury is different and requires a specific approach. If you believe you may have a claim for personal injury, call Duckworth Law and we can determine whether you have a legitimate claim.
Contact Us About Your Case
The information on this website is for informational purposes only and is not legal advice. Nothing on this website is intended to create an attorney-client relationship. You should consult with an attorney regarding your individual case.